8 marca to Dzień Kobiet to również konferencja "Kobieta Hotelarz" organizowana przez Polskie Hotele Niezależne w Hotelu Willa Port ***** na Mazurach. Wykłady, panele dyskusyjne, wymiana doświadczeń, a wszystko zakończone wystawną kolacją i uroczystym koncertem.
Zapraszamy do zapisów pod numeremem telefonu lub drogą mailową:
KONTAKT:
533 271 826 - Kamila Leś-Kałuża
biuro@polskiehoteleniezalezne.pl
DO POBRANIA:
KARTA ZGŁOSZENIOWA: https://u.profitroom.com/2016.hotelepph.pl/uploads/KartaZg_oszeniowaKobietaHotelarz2023.pdf
HARMONOGRAM KONFERENCJI: https://u.profitroom.com/2016.hotelepph.pl/uploads/HarmonogramKH2023_1.pdf
HARMONOGRAM KONFERENCJI:
9:40 - 10:00 | Rejestracja
10:00 - 10:15 | Powitanie
Elżbieta Lendo | Prezes Polskie Hotele Niezależne
10:15 - 10:30 I Prezentacja
MŁODZI HOTELARZE - EDUKACJA TO PODSTAWA.
Jak właściwa jakościowa edukacja pomaga budować prestige zawodu i branży,
na podstawie hotelarstwa w Polsce i Europie.
​
10:30 - 11:15 | Wykład
WPŁYWOWA LIDERKA.
Trendy w budowaniu reputacji na rok 2023.
​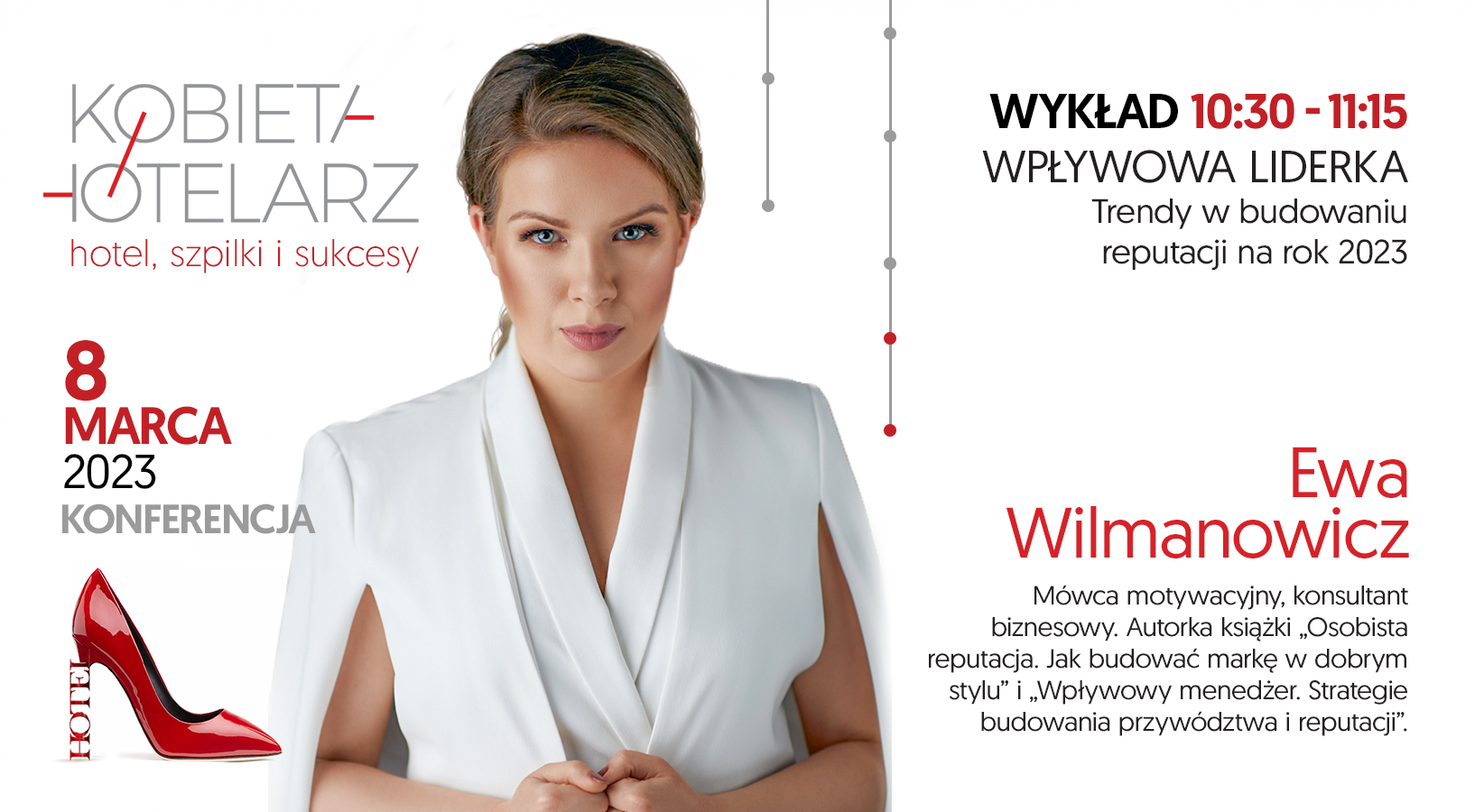 11:15 - 12:15 | Panel
KRÓL CZY KRÓLOWA ?
Kreowanie kultury inkluzywności w biznesie.
​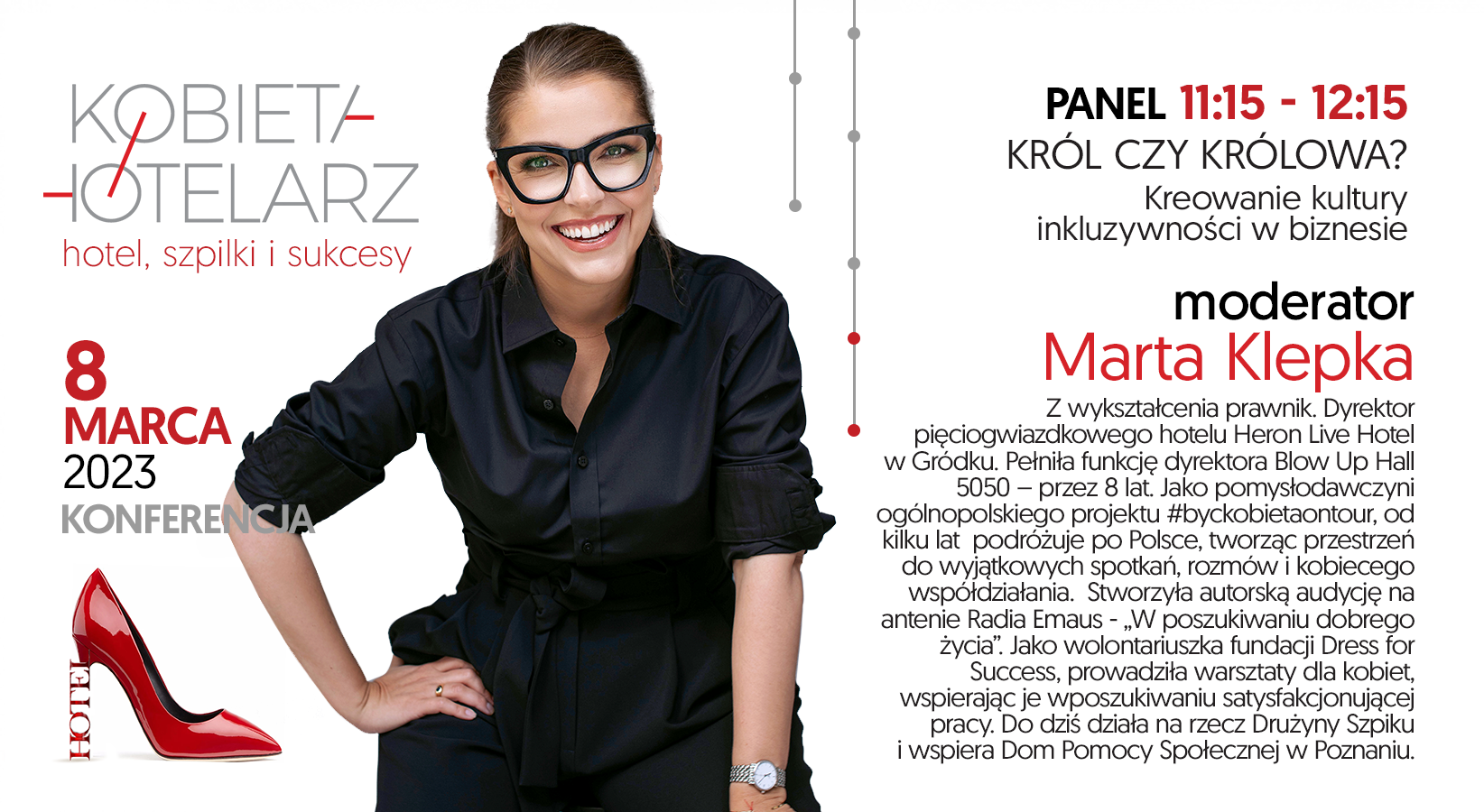 Michał Kozak (Prezes Zarządu w Hotel Arłamów S.A.).

Paweł Lewtak (Prezes Zarządu Hoteli Warszawskich "Syrena" i Wiceprezydent European Hotel Managers Association).

Janusz Mitulski (Senior Director Central & Eastern Europe w Marriott International).

Daniel Puciato (Członek Zarządu ds. handlowych PHH).

Radosław Boćkowski ( CEO Zdrojowa Hotels Sp. z o.o.).
12:15 - 13:15 | Wykład
KOCHAJ SIEBIE, NIE GARDŹ CHWILĄ !
O życiu, ambicjach i upartości w pokonywaniu barier.
​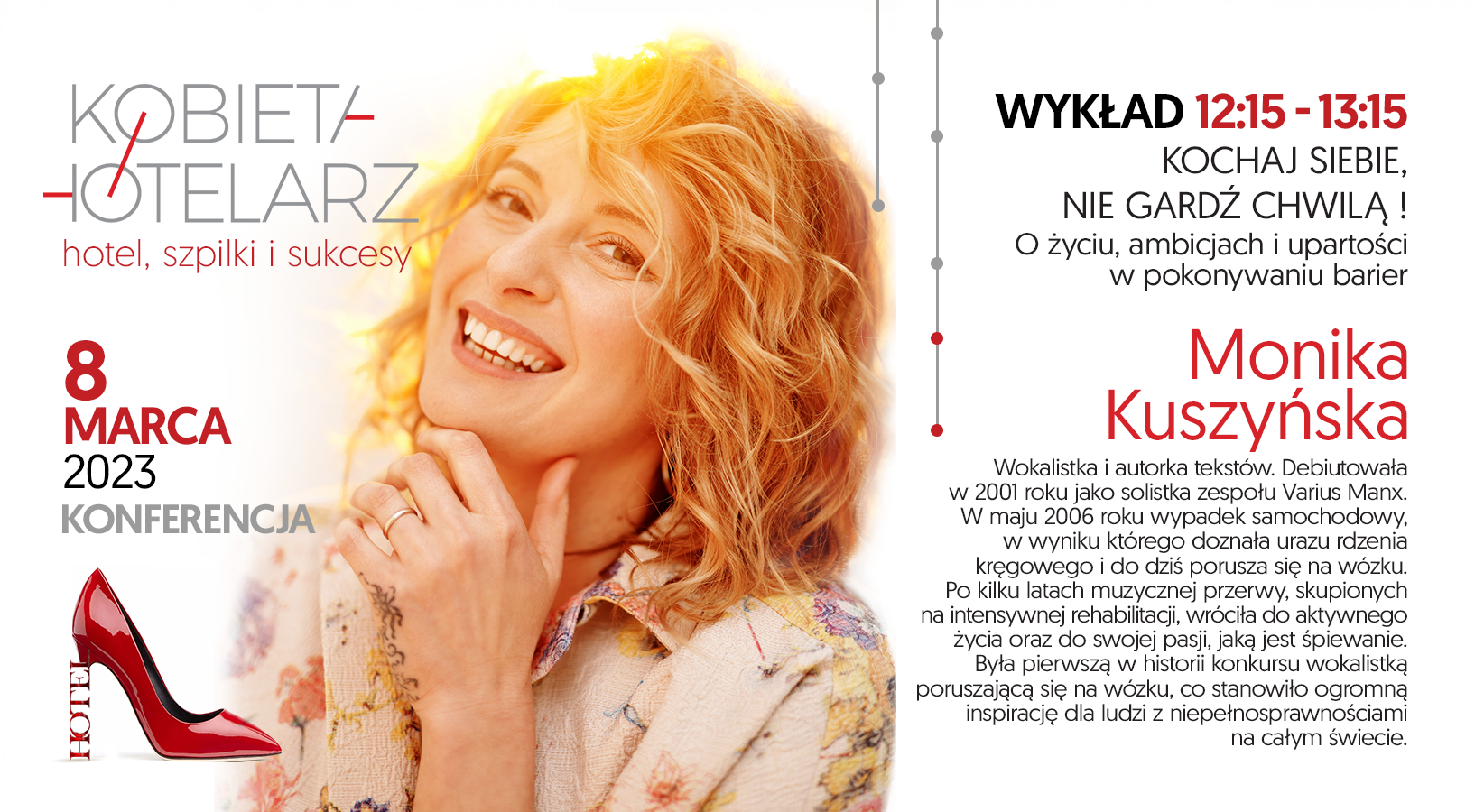 13:15 - 14:00 | Lunch
14:00 - 14:15 | Prezentacja
PRACODAWCA JUTRA.
Związek Pracodawców Turystyki Lewiatan
14:15 - 15:15 | Panel
AMBITNE, PRACOWITE, DOSKONALE ADAPTUJĄ SIĘ DO ZMIAN.
Siła Kobiet w ukraińskim biznesie.
​
Maryna Miryk (Państwowa Agencja Rozwoju Turystyki Ukrainy)

Mara Kejta (Generalny Dyrektor HAY Boutique Hotel & SPA

Oleksandra Gagarina (Zastępca Dyrektora generalnego Dnister Hotel lviv)

Czikita Iryna (Edem Resort Medical & SPA)

Natalia Barna (Profesor katedry Turystyki, Dokumentacji i Komunikacji Międzykulturowej Uniwersytetu "Ukraina", Dyrektor Instytutu Filologii i Komunikacji Spolecznej, Doradca Prezydenta)
15:15 - 16:00 | Panel
JEŚLI SAMA SIĘ NIE ZMOTYWUJĘ DO DZIAŁANIA, NIKT TEGO ZA MNIE NIE ZROBI.
Rutyna - nuda czy klucz do sukcesu?
:
​
Aneta Jeton Szotek (General Manager w AC by Marriott Wrocław).

Aneta Lewandowska (Director of Sofitel Warsaw Victoria).

Sylwia Korzeniewska (Dyrektor Hotelu Courtyard by Marriott Warsaw Airport).

Małgorzata Morek (Hilton Development Director Poland & Eastern Europe).
16:00 - 16:15 | Przerwa Kawowa
16:15 - 17:15 | Wykład
CZASAMI TYLKO "WYSTARCZAJĄCO" TO DOBRY REZULTAT.
Znajdź swoje equilibre...
​
19:00 | Uroczysta kolacja i bakiet